At DGI, each dog we care for stays in a luxury dog suite in our lodging area. Each suite includes a cot and a water bowl so your pup is comfortable. Feel free to bring along your dog's own bed from home or a favorite toy as well.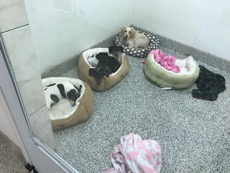 A lodging stay at Dawg Gone It includes 5 potty/stretch breaks per day in a larger room where your dog has more room to move (the first break begins at 6:30 a.m. and the last begins around 9:00 p.m.). We serve your dog's meals in his or her suite, and we encourage you to bring your dog's own food to keep a consistent diet and to prevent upset tummies. We also conduct regular water checks throughout the day to make sure the water bowl is topped off and to check and see how your pup is doing.
Beyond the basics of a safe and healthy lodging stay, we believe an activity-based stay creates the most rewarding experience for your dog. That is why we offer a variety of exercise and pampering options that you can add to your dog's stay (as well as package deals) so that you can customize a safe, fun, and memorable experience for your pet. Just look at all of the add-on options below to see what we're barking about!
---
*All dogs that stay or play at Dawg Gone It must have up-to-date vaccinations and be on an effective flea and tick preventative.
One of the best things about a stay at Dawg Gone It is that lodging is not JUST lodging: We have a full menu of activities to make your dog's stay a fun time!
Service add-ons