While some dogs love group play with other dogs, we have options even if your dog is more of a loner. If you need someone to take care of your dog during the day, Dawg Gone It offers Day Lodging from Monday through Saturday.
Day Lodging might be a good fit for someone visiting the Monterey Peninsula with their dog but who would like a few hours (pet free) for a sightseeing excursion or shopping spree. Day lodging is also a great fit for anything from home repairs, to a house full of guests, to a safe place for your dog during a move.
Day lodgers are given a private suite with a cot and water to relax during their stay, and with DGI's menu of activity options (see below), you can add on a walk, playtime with a human, etc., to customize a full day of fun for your fur buddy.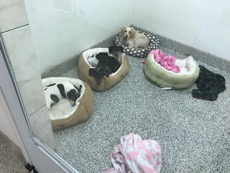 ---
*All dogs that stay or play at Dawg Gone It must have up-to-date vaccinations and be on an effective flea and tick preventative.
*Reservations Required
One of the best things about a stay at Dawg Gone It is that lodging is not JUST lodging: We have a full menu of activities to make your dog's stay a fun time!
Service add-ons